Contents
Home
Why Should I Care?
Get Mad with Mike
Modern Day Statesmen
Food for Thought
Editorials
Reference Materials
Related Information
About the Freedom Site
Be sure to visit
The Liberty Essays
---

---



The Freedom Site is


Modern Day Statesmen

---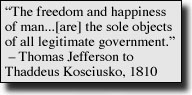 President William Clinton, March 1, 1993 during a press conference in Piscataway, NJ source: Boston Globe, 3/2/93, page 3:
"...[the United States] can't be so fixed on our desire to preserve the rights of ordinary Americans..."
When he was sworn-in as President of the United States, Mr. Clinton promised to, "...protect and defend the Constitution..." This quote sums up Clinton's regard for that promise in one sentence. The Constitution is the supreme law of the land, and yet the Clinton administration tried to ignore it, side-step it, by-pass it, and destroy it. Only the raw power of that document and of the government it created has allowed it to withstand the on-slaught of modern politics. How much longer it can do so is anybody's guess.
---
Clinton Administration Exploited Tragedy
The National Shooting Sports Foundation, an organization that represents 1800 gun manufacturers, wholesalers, retailers and publishers, along with 7 firearms manufacturers (Beretta U.S.A. Corp., Browning Arms Inc., Colt's Manufacturing Inc., Glock Inc., SIG Arms Inc., Sturm, Ruger & Co. Inc. and Taurus International Manufacturing), filed suit in U.S. federal court in Atlanta against the Department of Housing and Urban Development (HUD), the attorneys general of New York and Connecticut and officials from 14 municipalities, charging that efforts to impose safety measures were a conspiracy that violated constitutional guarantees of free trade. In the lawsuit, the manufacturers ask the court to forbid the defendants from setting any new national regulations that are not authorized by Congress on the design, manufacture, advertising, or distribution of handguns.
HUD Secretary Mario Cuomo stated publicly that he would use victims of violent crime as his shield in court, calling on child survivors of the horrific events at Columbine High, as well as the criminal attack outside the National Zoo in Washington, D.C., to appear as opening witnesses.
Al Gore continued to flaunt "gun control" as the solution, which remains one of the most prominent legacies of his presidential platform. At two Democratic fund-raising events, he announced the shooting to the audience, then claimed that all new handguns should have trigger-locking devices (even though virtually all currently do), gun buyers should be licensed and registered, and went on to demonize NRA, the Republican Party, and Texas Governor George Bush (R).
The Denver Post, considered by most to be very anti-gun, derided Gore's "brazen and shallow political opportunism." The Post stated,
"Youths who tote guns into public places aren't likely to be bothered by...whether they need to have a trigger lock on what likely is an illegally concealed weapon,"
and also called Gore's comments
"...trite sound bites from his campaign literature."
When confronted head-on by the National Rifle Association for this disgusting exploitation of recent tragedies, Mr. Gore responded:
"I believe Mr. LaPierre's comments reveals (sic) a kind of sickness at the very heart of the NRA."
President Clinton, following Gore's lead, also exploited the zoo event to renew his call for more "gun control," as did District Mayor Tony Williams (D) and District Delegate Eleanor Holmes Norton (D). But Virginia Governor Jim Gilmore (R), responding to Delegate Norton's allegation that D.C. criminals are somehow aided by Virginia's laws that focus on criminals rather than law-abiding gun owners, stated, "I think that [the shooting] illustrates the frailty of her gun control idea...the idea that somehow gun control is going to be the answer...demonstrates foursquare that is not the answer." Under current law, residents of the District are prohibited from purchasing a handgun anywhere in America, which, obviously, includes Virginia and Maryland.
---
Clinton Administration Failed to Enforce the Law
U.S. Representative John Dingell (D-Mich.) sent a letter to Attorney General Janet Reno asking "why the Department of Justice is not doing more to prosecute" individuals who violate federal law prohibiting them from obtaining firearms. Dingell, who has been one of the strongest supporters of our Right to Keep and Bear Arms since he was first elected to Congress in 1954, was prompted to raise questions regarding the lack of these federal prosecutions by Bureau of Justice Statistics (BJS) reports on Federal Firearm Offenders and Background Check for Firearm Transfers.
The BJS reports indicate that, while the National Instant Check System (NICS) continues to identify and deny convicted murderers, rapists, fugitives, and other violent criminals who attempt to purchase firearms from Federal Firearms License (FFL) holders -- a violation of federal law (18 U.S.C. 922(a)(6)) -- less than 1% of those rejected are being prosecuted at the federal level. The Federal Firearm Offenders report indicated that federal prosecutions are so low, in part, because under "DOJ/U.S. Attorney policy," attorneys are declining cases they feel have "minimal federal interest." [emphasis added! -- ed.]
Dingell asked Reno: "What exactly is the policy for prosecuting violations of 18 U.S.C. 922(a)(6)?"; "Why (would there) be a DOJ/U.S. Attorney policy not to prosecute those who violate federal firearms laws?"; and "Why (would there) be minimal federal interest' in prosecuting those who violate federal firearm laws?" The Michigan Representative, who was awarded the Harlon B. Carter Legislative Achievement Award by the NRA, also pointed out that another reason cited for not pursuing federal prosecutions was "weak evidence." But, as Dingell states in his letter, any attempt to purchase a firearm from an FFL holder requires the prospective purchaser to fill out an ATF Form 4473, and that form not only asks for information to identify the prospective purchaser, but also asks if he is prohibited from purchasing a firearm. If he is, then he has violated federal law by trying to purchase a firearm, and all the evidence one should need to prosecute has been supplied on the Form 4473. Former federal prosecutor Andrew McBride of the Richmond, Va., office even once remarked that such cases are as easy to prosecute as "picking change up off the street."
If you would like a copy of Dingell's letter, you may call the NRA-ILA Grassroots Division (800) 392-8683, or you will find a link to it on their website at NRAILA.org.
---
Clinton Administration Broke the Law, Defied Congress
Bill Clinton instructed HUD Secretary Andrew Cuomo to promote the HUD-funded gun-surrender program called "Buyback America." U.S. Representative James T. Walsh (R-N.Y.), then chairman of the House appropriations subcommittee that oversees HUD, wrote to Cuomo in July, telling him to stop funding the program. The letter, which was also signed by U.S. Representatives Allan Mollohan (D-W.V.) and Tom DeLay (R-Tex.), pointed out that "funding the gun-surrender program was not authorized by law -- a position supported by both judicial review and the GAO." Walsh stated that HUD was misspending federal funds by diverting $15 million earmarked for a program designed to fight drugs in public housing to pay for the gun turn-in scheme.
Why is money that could have spent to house homeless people being spent to fight the "drug war" and buy back firearms?
Walsh told the Washington Post, "Drug elimination funds are for eliminating drugs... Gun buyback programs, whether you agree or disagree with them, do not qualify under that funding scheme." He also pointed out that he felt "gun buybacks are sort of silly" because criminals are not going to turn in their firearms for the HUD-suggested price of $50. Walsh's evaluation of the ineffectiveness of gun-surrender schemes is supported by research funded by Janet Reno's DOJ, as well as by researchers on both sides of the gun issue.